Services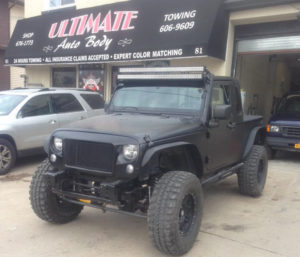 At Ultimate Auto Body, Inc. of Glen Cove, we can repair, rebuild, repaint, or refinish just about anything on wheels.  From antique cars to the most modern automobiles, we service customers in Nassau County and throughout Long Island with timely, dependable service you can trust to do the job right every time.
For the convenience of our customers, we provide 24/7 towing service, pick-up and drop-off service and coordinate auto rentals from Enterprise.  We negotiate directly with your insurance company on your behalf to make sure your car is being fixed properly.  Cost cutting and shortcuts may benefit the insurance company, but they do nothing to enhance the lifespan and safety of your vehicle.  We want to do your repair the right way for you.
Collision and Auto Body Repairs
From shopping cart dings to major collisions, auto body repairs are a necessary part of automobile ownership or leasing.  We go to great lengths to make the repair process as hassle-free for our clients from across Long Island and Queens as possible.  Click HERE to learn more about our quality auto body repairs.
Lease Return Repairs
Paying dealer prices for the damage that inevitably occurs over the course of driving on Long Island day in and day out can be an expensive proposition.  Bring your car to us when your lease is almost up, so we can make it look good as new and save you a bundle.  Click HERE to learn more about repair of leased automobiles.
Custom Paint and Body Work
Do the cars of yesteryear fill you with nostalgia and bring a smile to your face?  Us too. If the roar of a big engine and the lines of American muscle cars set your heart racing, you need Ultimate Auto Body in your toolbox. Muscle car enthusiasts across Long Island and the NY metroplitan area rely on us to repair, repaint and refinish their cars to the original glory and keep them looking that way.We are among Long Island's premier providers of painting and repair services for cars of all ages and styles.  No matter how much time has ravaged your beloved car, we can make it look new again.  Click HERE to learn more about our custom painting and body work.
Vehicle Customization
Are you the guy or gal who won't be satisfied with a stock vehicle?  We can raise vehicles, modify body styles and more.  The sky and your imagination are the limits to how we can customize your car or truck.   Click HERE to learn more about our vehicle modification services.
Motorcycle Repair and Modification
We are one of the very few collision repair shops on Long Island that is qualified to do repairs and modifications on all makes, models and ages of motorcycles.  Click HERE to learn more about our motorcycle repair and modification services.
Free Price Quotes
Call Ultimate Auto Body of Glen Cove to arrange for a free price quote or pick-up of your vehicle.  It's the first step toward making the vehicle you have into the vehicle you want.